Benefits
Enterprise-level results in an affordable single app. State-of-the-art algorithm and subject matter experts' knowledge working intuitively to build a tailored model.
The tool will give you clear visibility and understanding by using metrics to show the impact your investment is delivering.
Get setup in days with minimal training required, on a safe and secure cloud-based app, for immediate business insights.
Set up your conversion plan confidently by following the steps built by F2Z and effectively deploy your electric vehicles.
Safely adopt a zero-carbon emission strategy that ensures your operations remain efficient while being cost effective.
Once the new infrastructure is installed, the solution allows you to manage all of these new assets so that you can stay on top of their performance.


Got a question about this product?
If we haven't answered your question here, please get in touch and we'd be more than happy to help.
Ask a question
Fleet owners can gain access to Fleet2Zero via the Gen marketplace. If they use existing recognised telematics providers, they can access Fleet2Zero directly and request an optimised conversion plan. Otherwise they will be connected with an expert engineer in Arcadis Core who will work with them to gather together the data needed to inform the plan.
Fleet2Zero uses a state of the art genetic algorithm to search through all of the possible choices for vehicle design, vehicle deployment and charging infrastructure provision to find the conversion solution that achieves the operational needs of the fleet whilst incurring the lowest conversion cost.
Fleet2Zero uses industry datasets and captured SME expertise to quantify everything from the expected cost of purchase and installation, to the fuel and carbon savings that will be delivered, equipping the fleet owner with all of the guidance and metrics to underwrite their investment plan for the conversion.
With climate change concerns driving EV adoption to an all-time high, a shift in our transportation technologies is also required to address this. Governments all across the globe have made it clear that zero carbon vehicles are the future, so we've created a solution to guide you through this process. With F2Z you can stay ahead of the curve and continue to provide value to your customers in a sustainable way.
Discover AppliedInsight
Discover how our AppliedInsight apps provide solutions to your asset management needs
Discover AppliedInsight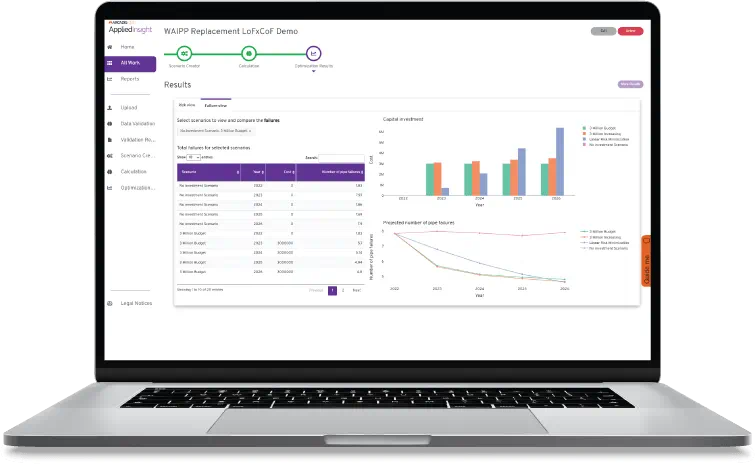 Book a demo today
and see our software in action!
Let our experts demonstrate how our software can benefit your organization, without obligation, and let us unlock the power of your data.