At Arcadis Gen we have one purpose
To unlock the power of data for a more sustainable, efficient, and resilient world.
We see that the world is changing fast. We also see the many challenges that boundless data and transformative technologies can bring. Arcadis Gen is wholly dedicated to providing digital technologies to organizations that manage infrastructure and physical assets - enabling the best intervention and investment decisions possible.
Our Mission
Our mission is to address not only the current challenges organizations face – compliance, regulatory, sustainability, resilience – but the future challenges that will come.
Infused with a wealth of rich domain of industry and consulting experience, Arcadis Gen brings the breadth of Arcadis' global presence and expertise in the complete lifecycle of assets.
Our Aim
Our aim is to be a global technology leader in sustainability and resilience in our markets, committed to making the world a better place for all, whilst delivering value to our shareholders.

We're committed to:
Being a clean technology leader, by achieving Net Zero by 2030, reducing this by 10% year on year.
Sustainability and resilience in all our products and solutions addressing customer problems for more positive outcomes.
Achieving independent accreditation of what we do and the way we do things.
Improve the quality of life for communities around the world.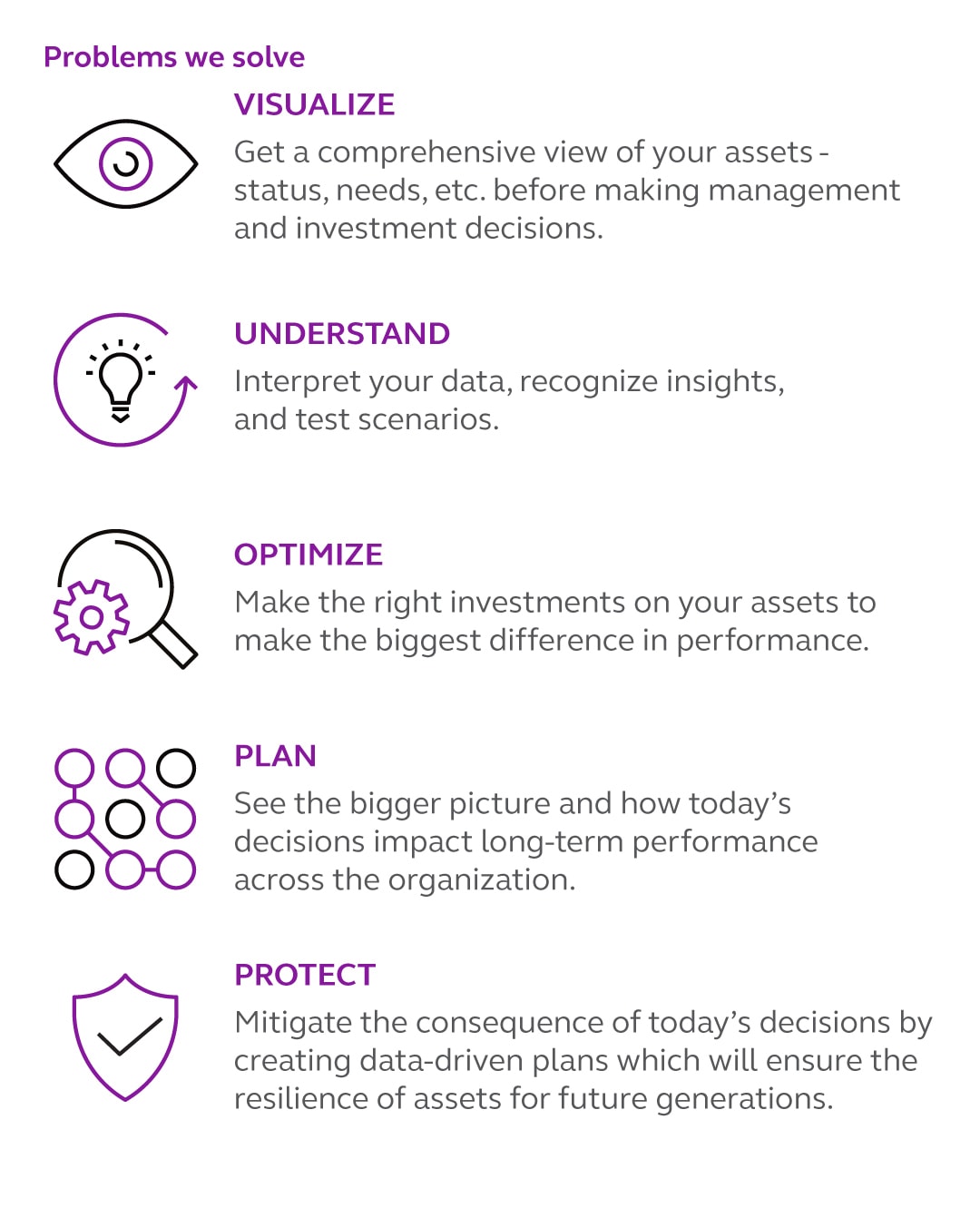 Our products
We build products that fit our customers' needs, making their lives easier, and their organizations run better. Across the markets that we operate in our goal is to solve our customers problems enabling them to better understand their asset lifecycle.
Select your market to find out how Arcadis Gen's unique combination of technical asset knowledge and advanced analytics could help you improve reliability, performance, efficiency and safety across your operations.
Our Partnerships
To increase the value we bring to our customers, we continue to build our eco-system of trusted partners. In 2021 we announced exciting partnerships with Conectado Solutions Inc and Zpro Solutions, two enterprise asset management firms that help us accelerate delivery of our market leading products and solutions.

We also continue to work closely with our parent company, Arcadis, as they are a route to market, with Arcadis clients using Arcadis Gen products and solutions. Both Arcadis and Arcadis Gen collaborate on new ideas for products and digital innovation to tackle the biggest challenges customers have in our industry today.
Got a question? Get in Touch!
Please provide us with your contact information and we'll be in contact soon.