As we all know, delivering clean water has many infrastructure challenges. If you're like most water organizations, you're faced with the daily task of ensuring your service runs smoothly and efficiently, while working with aging pipes and limited budgets. What if you could predict pipe failures in your network – reducing risk and costs? Now you can with predictive analytics.

Join Dan Scott, Chief Data Scientist at Arcadis Gen, for an informative session with Water Finance and Management Magazine, about enhancing your pipe network management and replacement efforts using predictive analytics.

Here's what Dan will be covering:


Understanding and mitigating your risk using predictive analytics
Maximizing your CIP outcomes with predictive analytics
Removing complexity and making data-driven decisions without needing an in-house data scientist or expensive consultancy
Using machine learning for more accurate pipe predictions
Finding efficiencies in your workflow while saving time and costs
Watch the webinar and learn about actionable ways to improve your decision making, optimize investments, enhance service delivery and balance customer expectations.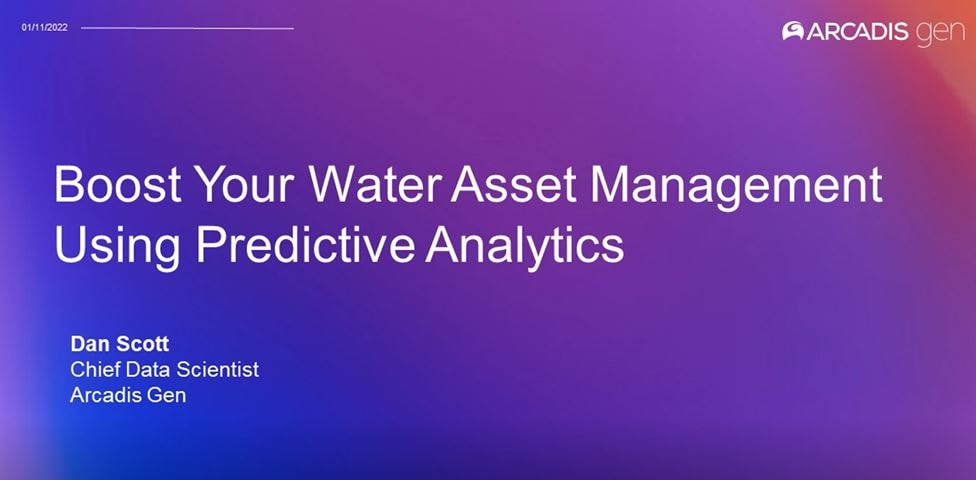 Play
Webinar recording: Boost Your Water Asset Management Using Predictive Analytics
Did you find this information useful?
Did you find this information useful?
Thank you for your feedback!
Close