Joe Roebuck, Business Lead for Resilience and Places, gives his views on how Arcadis have helped support the recently submitted PR24 business plan submissions in the UK Water sector.
Water companies across the UK have asked for a record breaking £96 billion of investment to reduce pollution, secure our future water supplies and ensure the network doesn't store up problems for future generations.

At Arcadis we are proud that our decision support tools have supported the draft business plans and long-term delivery strategies for six UK water companies, including Severn Trent Water, Yorkshire Water, Wessex Water, South West Water, Northumbrian Water and Portsmouth Water. A further three companies, Southern Water, Thames Water and Affinity Water have benefited from our advisory and assurance teams in production of their plans.

Our technology solutions have helped produce an evidence-based approach to long term planning, ensuring optimal investment choices are made to maximise value to customers. Stretching performance commitments around pollution, leakage and asset health require historic levels of investment. With an increase in customer bills, starting at £7 per month in 2025 and raising to £13 per month by 2030; the ongoing use of innovative analytics and optimisation technology to ensure this is value for money to customers will be critical going into AMP8.
Below is an example excerpt from the Severn Trent Water business plan, describing how an Arcadis solution was utilised to understand the impact of uncertainty on their investment choices, both in terms of individual schemes and future world scenarios.

The low regrets analysis gives a combined frequency that each option is selected across 100 iterations (of varying option cost, benefit, and delivery time) of the eight scenarios. Figure 3.6 below shows (the) total frequency schemes are selected and how this is spread over time.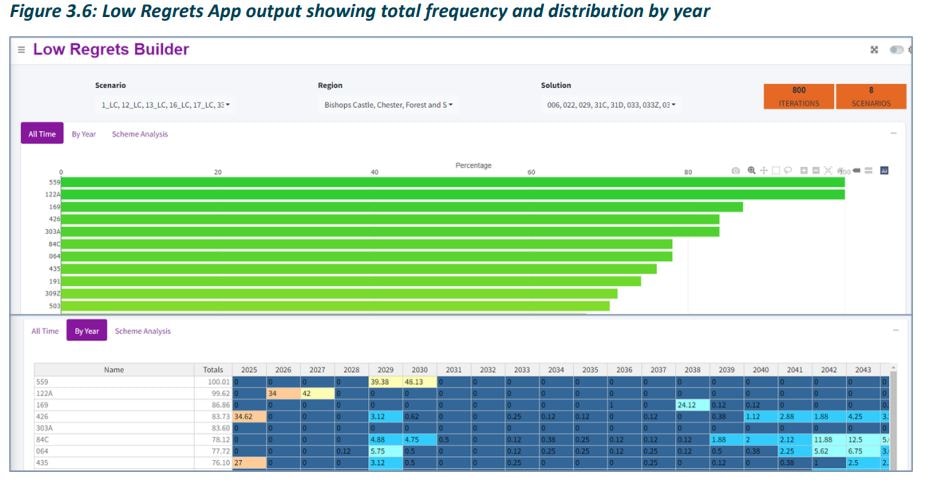 This information is used to identify our no regrets investments, i.e. that which is needed in both benign and adverse scenarios, across a wide range of plausible scenarios, or to meet near-term requirements at water resource zone level.
Arcadis look forward to helping the UK water companies with their challenges going into AMP8, such as reducing pollution, maximising the effectiveness of the supply chain as it strives to deliver the biggest programme on record and ensuring resilient water supplies in the face of a rapidly changing climate. We are dedicated to bringing innovative solutions, which combine deep asset knowledge with technology proven time and again in regulatory submissions to help the water companies meet their performance commitments, safeguarding a sustainable network for generations to come.
Did you find this information useful?
Did you find this information useful?
Thank you for your feedback!
Close